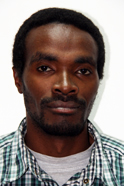 By Gitonga Njeru
KAKAMEGA, Kenya—Helen Wasilwa, who is 20 years old, went to the government hospital here to give birth to her third child. The delivery went fine. But she and her five-pound baby, Kalisha, nearly died from infections they picked up in the hospital from filthy water.
Ms. Wasilwa, a thin woman with hair cut short and an almost child-like face, said she and her daughter drank untreated water and shared bathing water at the hospital with seven other women and their just-delivered infants.
Ms. Wasilwa picked up a rash that covered most of her body and came down with typhoid and severe diarrhea. Her child developed diarrhea and both became severely dehydrated.
"I almost died," Ms Wasilwa said in a conversation at her one-room, mud-walled home, a few days after leaving the hospital.
Hospitals in Africa and much of the rest of the developing world can be dangerous places, crowded, noisy, unsanitary and foul-smelling. They are often understaffed, short on medicine and breeding places for disease. The hospitals mirror the places they serve. Most people do not have a reliable supply of clean water at hand and neither do the hospitals.
Around the world, about one billion people do not have reliable access to clean drinking water. And each year nearly two million people, mostly children under the age of five and young mothers, die from diarrhea and similar diseases that they pick up from the only water available to them. Some of the people get sick from water in hospitals.
The number of deaths from dirty drinking water could be significantly reduced. Aid workers and government officials know how to provide clean drinking water. But the money goes elsewhere.
The hospitals in Kenya are among the worst in Africa. The Kakamega Provincial General Hospital, where Ms. Wasilwa gave birth to her third child, opened in 1922 when Kenya was a British colony. It has 150 beds and struggles to keep up with demand. It needs a good cleaning and a coat of paint. Groups of family members gather in corridors and in patients' rooms. They supply their own sheets and food and medicine and help with the nursing. Several hot, airless rooms make up the maternity ward.
For the birth of her first two children, sons who are now two and four years old, Ms. Wasilwa stayed home and worked with a midwife. For her latest pregnancy, she decided that the government messages she had been hearing might be right: Perhaps a hospital would be safer. But the hospital turned out to be a nightmare.
In the conversation at her home, Ms. Wasilwa seemed exhausted and shaken. "I was disappointed," she said. "I wish I had given birth at home."
Hospital workers said the Medical Practitioners and Dentists Board, a watchdog group, is investigating Ms. Wasilwa's case.
Kenya has 160 hospitals for its nearly 40 million people, an average of 3.5 million people for each hospital. Two-thirds of the hospitals are in desperate condition. Many do not have running water. Water is sometimes brought in by the bucket, often unclean and untreated. Often there is no electricity. It is like that here at the Kakamega hospital, an hour and a half's drive from Lake Victoria in western Kenya.
Tests Keep Women
Out of Hospitals
Many women in Kenya and the rest of Africa say they prefer not to go to a hospital for child birth. For many, worries about poor sanitation and indifferent treatment are the reason. But others, like Veronica Musoti, say they stay away from hospitals because of the government's policy of testing all patients for HIV/AIDS. Ms. Musoti, who is 36-years-old and lives near the Kakamega hospital, recently gave birth at home to her second child, a baby boy. Even though her husband has been diagnosed with HIV/AIDS, Ms. Musoti said she feared that if a test showed she had the disease, she would be accused of promiscuity and cast out by her husband and relatives.—Gitonga Njeru
At the Kakamega hospital, diarrhea among newborn children and mothers is routine, health workers say. Most often the diarrhea is caused by bacteria and parasites in the water.
Severe diarrhea is one of the symptoms of cholera, a disease that is rare in developed countries but is still a killer in Africa. Dr. Shanaz Sharif, the chief public health officer in Kenya, told me that an outbreak of cholera not long ago is believed to have originated in the Kakamega hospital.
The Kakamega hospital is one of about 100 of Kenya's hospitals that are in line for renovation under a $1 billion program financed by the World Bank, according to Dr. Francis Kimani, the Director of Medical Services in Kenya. About $800 million is being spent on painting, modern equipment and building additional rooms. Another $200 million is to be spent on providing clean water and toilets, Dr. Kimani said.
Medical workers around the country said in interviews that at least some of the problems with health, hospitals and water are the result of official corruption. Transparency International, a non-governmental organization with headquarters in Germany, ranks Kenya as one of the most corrupt countries in the world. The corruption is a rare point of agreement for Kenya's political leaders and their opponents.
John Mutuho, a government supporter in Parliament, and Abwabu Namwamba, an opposition leader, said in interviews that corruption is engrained in the culture of their country. "Corruption among senior and junior employees in hospitals is very rampant and nothing new," Mr. Mutuho said. "The government has put up posters in hospital walls alerting the public not to give bribes in exchange for rightful services."
Some Kenyans say that, often, when the government allocates money to hospitals, the money goes to big hospitals in Nairobi, the capital of the country. But even some of the biggest hospitals, like the 450-bed Pumwani Maternity Hospital in Nairobi, fall far short of ideal.
The Pumwani hospital looks clean. It seems well equipped and even has air conditioning – which is rare in Kenya. But power outages are frequent in Kenya and sometimes air conditioners might as well not exist. Water is often in short supply.
Jane Kisia, who is 27 years old and lives on the outskirts of Nairobi, gave birth at the Pumwani Maternity Hospital. There was no running water then and her infant daughter came down with severe diarrhea. The child survived. But the experience was searing. "I was very scared," Ms. Kisia told me. "A hospital, which should be a very trusted place for any woman giving birth, had become very scary." #