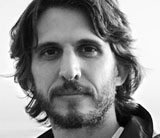 By Kelly Hearn
Nueva Jerusalén, Peru—Tomas Carijano sat at the front of the canoe, whittling the wooden dart to a deadly point, a blowgun propped against his knee. Then, with a nod, he gave the signal.

"You can drink this," Mr. Carijano said in an Indian dialect through a Spanish interpreter. But "most of the rivers near here are agua salada."
"Agua salada" means water that is highly-saline, toxic, useless for human consumption - made that way by what oil antagonists say are the results of sloppy oil drilling operations.
Three decades ago, oil was discovered under parts of the moist tropical rain forest here along the border of Peru and Ecuador. The area is home to the Achuar people, a few thousand Amazon-region Indians who have lived subsistence lifestyles here for millennia, relying on slash-and-burn farming, hunting and fishing. Mr. Carijano is one of their spiritual leaders. By the mid-70's, Occidental Petroleum, with headquarters in Los Angeles, had cut its way here, felling trees, laying pipes and roads, digging wells.
The big oil company made a mint, eventually selling its operations in 2000 to Pluspetrol, an Argentine company that continued to use Occidental's infrastructure. But for years, critics say, Occidental had cut corners by dumping toxic wastewater into rivers instead of "reinjecting" it deep into the ground.
Occidental says Pluspetrol assumed past, present and future liability when it bought the operations. What's more, an Occidental spokesman, Richard Kline, said his company has seen no viable scientific evidence linking its operations to indigenous health problems.
But an international team of lawyers says the company's waste disposal infrastructure violated industry standards when it was built, and that it left a quiet but killing stain.
A report last year, paid for by EarthRights International, a legal rights organization based in Washington D.C., said many rivers and streams in Occidental's former area of operation where the Achuar live, are highly contaminated. Moreover, the report said that a majority of Achuar have toxins in their blood.
Villagers here and in four other Achuar communities suffer "widespread lead and cadmium poisoning," the report said. It also said that "children and adults in at least two of the communities were found to have dangerously high levels of cadmium in their blood."
In May, American lawyers representing Mr. Carijano and 24 other Achuar Indians sued Occidental, prompting the company to ask a United States judge to send the lawsuit to Peru. A decision is expected soon.
The American lawyers and their Achuar clients are skeptical. "In Peru," Mr. Carijano said, "the indigenous people do not get justice."
One afternoon not long ago, Mr. Carijano, in light cotton pants and shirt, walked through his small, jungle farm here. The fields were ruined by the oil operations, he said. He looked out over a polluted river and a scarred rain forest that he said his Achuar God, Arutum, had told him to protect without fear of dying. "I am not scared," he said. "We will fight."
Then, his blowgun replaced by a .12 gauge shotgun slung across his chest, Mr. Carijano said: "Occidental has gone home and is comfortable. We are left with rivers and land that are no good anymore."
—Travel for this reporting project was sponsored by the Pulitzer Center on Crisis Reporting. For related project materials, please visit: Peru's Petroleum Play: Amazon Oil and Politics (http://www.pulitzercenter.org/showproject.cfm?id=32)