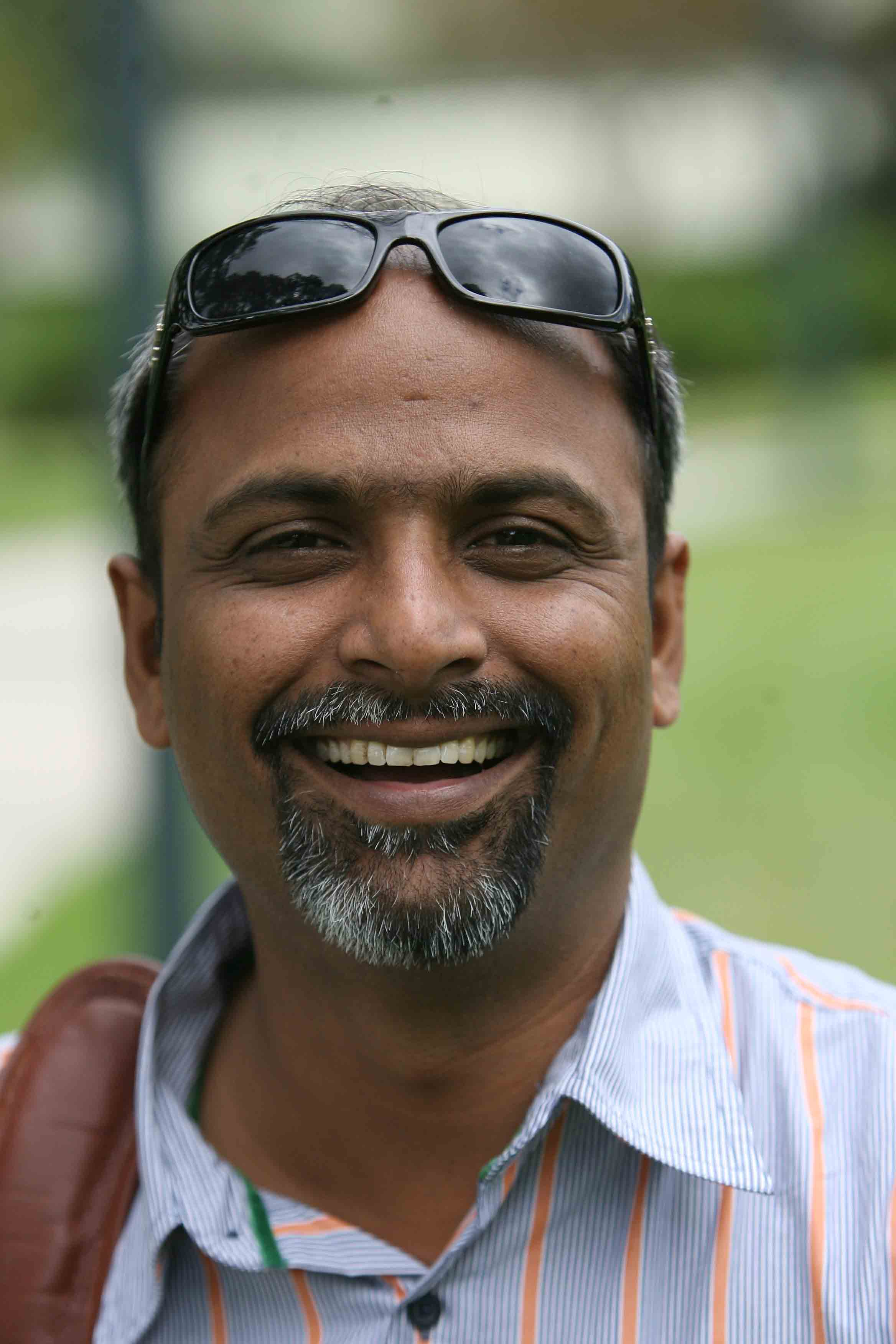 By Ramu Suravajjula
Part three of a three-part series
NALGONDA, India – Fluorosis, a crippling disease caused by drinking water with high levels of fluoride, often becomes evident in people early in life.
Kanchukatla Subhash , the founder of a private aid organization dedicated to helping victims of fluorosis, estimated that nearly half of all fluorosis victims in Nalgonda are 15 years of age and younger. In the early years, he said, the damage is usually mild. The progressive ravages of the disease can be stopped, he said, if victims are provided with clean drinking water.
There is no cure for fluorosis, medical experts say. But some researchers say damage has sometimes diminished after victims have begun drinking uncontaminated water and taking vitamins.
In the heart of Nalgonda. Photo by Singam Venkataramana
Millions of people around the world are afflicted with fluorosis. In parts of Asia, the Middle East and Africa, fluoride seeps into underground supplies of drinking water. Fluoride is put into drinking water in very small amounts to prevent tooth decay in some parts of the world. But high-levels of fluoride can be crippling. Unhealthy deposits of fluoride have been found in underground sources of drinking water in the United States also. But no major incidents of fluorosis have been reported there
For decades the problem here in one of the poorest areas in India has only gotten worse. More and more people have become victims as they have drunk the only water available to them.
Nalgonda city and district, with 3.6 million people in the south India state of Andhra Pradesh, is believed to be among the places in the world with the greatest concentration of fluorosis victims. This is the third in a series of articles about fluorosis in Nalgonda.
No comprehensive statistics on fluorosis victims exists. But some non-government experts estimate that hundreds of thousands of people are suffering with fluorosis in Nalgonda and that there are perhaps at least several million more victims elsewhere in India. The government figure for fluorosis victims in Nalgonda is 70,000.
Over the years, the government and non-governmental aid organizations barely addressed the epidemic of fluorosis. In a plaintive statement on the website, nalgonda.org, victims of fluorosis and their supporters said that except during election campaigns, "local and other leaders conveniently forgot about our drinking water problems."
Court orders to provide aid to the fluorosis victims largely have been ignored and International projects have failed. Some clean water is being provided in Nalgonda, government officials say. But officials of non-governmental agencies say many people continue to drink fluoride contaminated water.
But there have been some improvements. Two years ago work began on tunnels and a reservoir that are intended to eventually bring fresh water from the Krishna River to many people in Nalgonda. The government has also started providing small payments to some fluorosis victims.
The main tunnel from the Krishna River is planned to be 26 miles or 43.5 kilometers long. So far, three miles of the tunnel have been completed. Government officials expect the tunnel project to cost nearly 28 million rupees or nearly $600 million–far more than the state government has ever spent on fluorosis. But the tunnel will only provide water to the people of Nalgonda. And medical experts and officials of private aid organizations say much more needs to be done to tackle this problem elsewhere in Andhra Pradesh and other parts of India.
Fluoride's harm. Courtesy of Shailesh Reddy
The fluorosis victims here and elsewhere in the country have attracted little attention outside India. The victims have mainly struggled along on their own.
As far back as 1945, signs of fluorosis were emerging in Nalgonda. But a series of state and national governments has not focused on the problem, said Venu Sankoju, a popular poet in the region who has written about fluorosis victims.
As an example of the intensity of fluorosis in Nalgonda, Mr. Subhash, the founder of Fluorosis Vimukti Porata Samtihi or the Organization to Fight Fluorosis, said that the underground water in 48 of the 59 mandals or groups of villages in Nalgonda were at least partly contaminated.
Government officials in the villages of Marriguda, Batlapally and Nampally, where many people have been afflicted, told me they have no statistics on the number of victims of fluorosis. They also said they had no details on the health of the victims.
Mr. Subhash said the government's count of victims greatly understated the extent of the disease. He said the government's calculation was "slap dash work" and that he believed the government was deliberately understating the extent of fluorosis. One local official who would speak only on condition that he not be identified, said that data collected by the Andhra Pradesh's Department of Rural Water Supply showed 70,000 fluorosis victims in Nalgonda. He said the government had no reason to minimize the extent of the disease. "Why should we hush up a problem," he asked.
Initially, medical experts say, fluorosis mainly attacks the teeth. The chemical erodes and deeply pits the enamel. Dr. Jayaprakash Reddy, a doctor in Nalgonda who is not related to the political leaders, said he has seen many victims of fluorosis "Discoloration of the teeth is the first symptom," he said in an interview. " As children grow up drinking fluoride-contaminated water, their bones slowly become stiff resulting in pain and awkward physical appearance."
A summary of a medical study by Dr. D. Raja Reddy, no relation to the other Reddys in this article, published on a blog called "India Current Affairs," said that when studies of fluorosis were done in Nalgonda in 1945 no children were observed with deformed arms and legs. The first reports of those conditions, he said, came in the 1970s. This seems to suggest that the contamination of the drinking water has intensified.
According to Dr. Reddy, in the medical summary, nutrition and the amount of calcium in the system, are important factors in the development of fluorosis. He said that some people in the Punjab region in the north of India are exposed to high concentrations of fluoride. But he said they also get high levels of calcium and that a study of children in the Punjab found no children with deformed arms and legs.
In a study of two villages in Nalgonda presented at the 4th International Workshop on Fluorosis Prevention and Defluoridation of Water in Sri Lanka in 2004, A.S. Narayana and two other authors found dental fluorosis in 96 to 97 percent of the people they interviewed and skeletal fluorosis in 45 to 60 percent. They said more than half of those interviewed reported suffering joint pain, stiff necks, gastric problems and a burning sensation during urination. After the people in the study drank uncontaminated water and took vitamins A and B for some time, the researchers said, many of the symptoms improved markedly.
For years, Mr. Subhash of the Organization to Fight Fluorosis, had campaigned for water treatment plants. With help from the Netherlands, the government of Andhra Pradesh built 20 treatment plants to remove fluoride from drinking water. But the plants fell into disrepair and gradually became useless.
At that point, Mr. Subhash began urging the government of Andra Pradesh to provide drinking water from the Krishna River. "After the failure of the Netherland's project, we never sought de-fluoridation plants," he said. "What we want is uninterrupted supply of Krishna waters to fluoride-afflicted villages."
In the Krishna River tunnel construction project started two years ago, workers are cutting through hills and mountains with heavy machinery.
Dusarla Satyanarayana, a former private bank officer and the founder of the "Organization to Achieve Water" or "Jala Sadhana Samithi," was also a leader in getting the government to build the tunnel. He organized protest rallies in Hyderabad and in New Delhi, the capital of India, and went on hunger strikes.
In 2005, the state government began paying fluorosis victims a small monthly stipend. But Mr. Subhash says the payments of 200 rupees or $4 monthly are too small – even in an area where the average monthly pay is $20 - and that only a fraction of those eligible for the money are getting it.
"They are giving this money to about 3,000 people," Mr. Subhash said. "In fact the number of victims who deserve financial support is much more than 800,000. They all should be paid a compensation of 1,000 rupees per month."
In 1996 the fluorosis problem here attracted rare international attention. Despairing at the government's inaction, 525 people in the city of Nalgonda rushed to compete for a single seat in India's lower house of Parliament in New Delhi. Bommagani Dharma Bhiksham, the candidate of the Communist Party of India, won. But the communists had little influence in Parliament and Mr. Bhiksham was unable to make much progress on fluorosis.
Now both representatives from Nalgonda District, one from the city and one from elsewhere in the district, are members of the ruling Congress Party. They are in position to push for national backing for fluorosis assistance.
Since the Congress Party won control of the national government and most of India in 2004, the party's leaders in Andhra Pradesh have rallied to the cause of fluorosis. And, finally, a major project to relieve the epidemic is underway. #