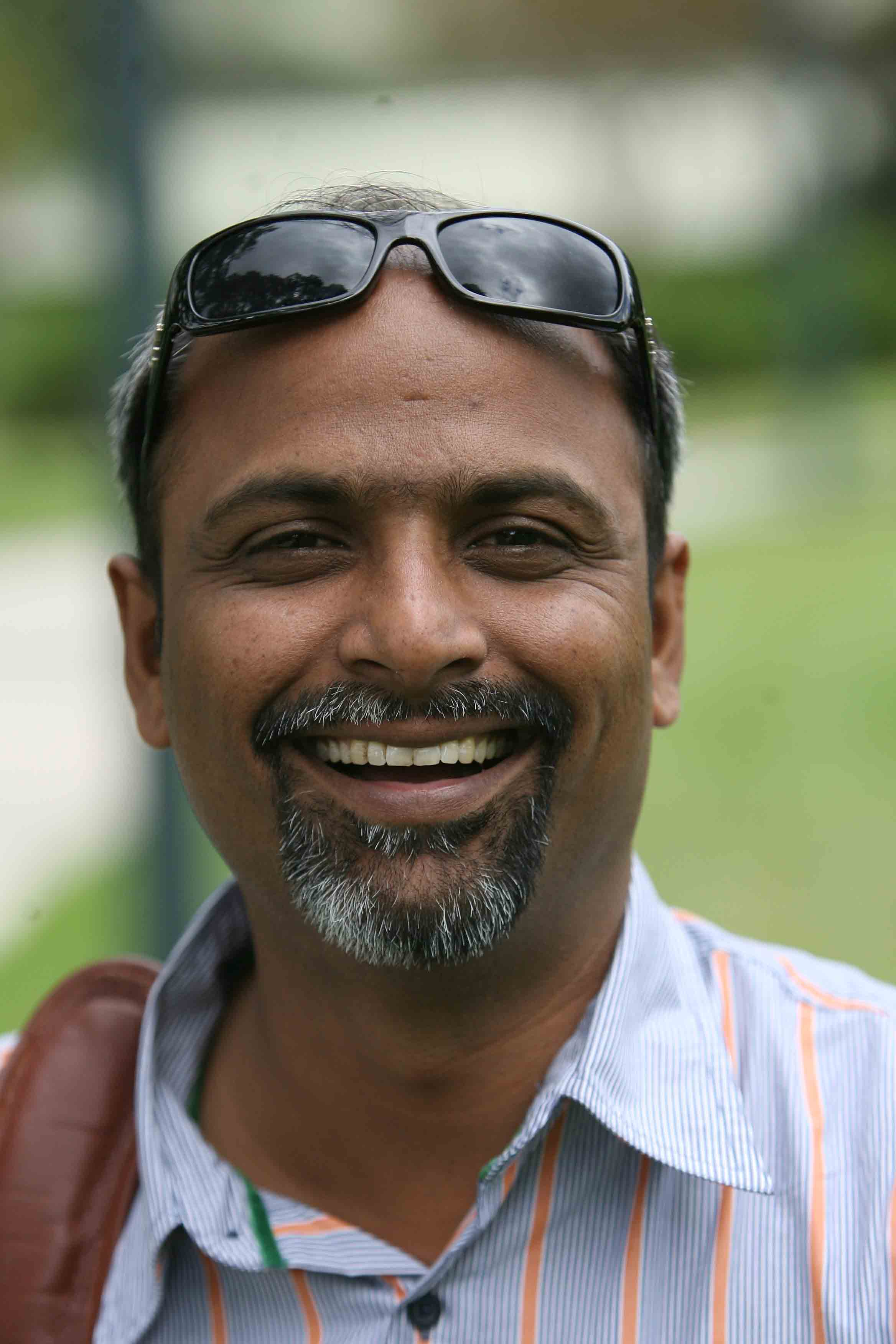 By Ramu Suravajjula
Part one of a three-part series
NALGONDA, India – Amsala Swamy is 27 years old. But he looks more like a 10- or 12-year-old boy. He has short twisted legs and rubbery arms. His growth has been stunted and his body is as delicate as glass. Utmost care is needed to carry him from one place to another lest he end up with yet another fracture.
Blame it on fluorosis, a painful, crippling disease caused by drinking water saturated with fluoride. The chemical is put into drinking water in the United States and other countries in small amounts to prevent tooth decay. But in parts of India and other countries in Asia, the Middle East and Africa heavy concentrations of fluoride have naturally developed and have contaminated underground sources of drinking water.Fluorosis victim with homemade walker. Photo by Ramu Suravajjula
The effects of fluorosis differ. While development is stunted in many victims like Mr. Swamy, who never seem to age, others look old beyond their years. In the worst incidents of dental fluorosis, teeth develop brown and yellow spots and some people lose some of their teeth.
There is no cure for fluorosis, medical experts say. But researchers say that drinking clean water stops the progress of the disease and that some victims have improved after drinking uncontaminated water and taking vitamins.
Millions of people are afflicted with fluorosis, according to the World Health Organization. For some the affliction is mild and damages only their teeth. For others it is crippling. Fluoride deposits have been found in the United States, but few cases of severe fluorosis have been reported. In the United States, experts have debated for years whether adding fluoride to drinking water has harmful, long-term effects.
This is the first of a three-part series on Nalgonda, a city and district of 3.6 million people in the south India state of Andhra Pradesh with what is believed to be one of the largest concentrations of fluorosis victims in the world.
As far as can be determined, no one has done a comprehensive census of fluorosis victims in Nalgonda or other parts of India. Some experts estimate that at least several million people in the region have been afflicted. In Nalgonda, estimates of the number of victims range from tens of thousands to hundreds of thousands. Two neighboring districts in Andhra Pradesh, Mahabubnagar and Rangareddy, and three more distant districts, Warangal, Prakasam and Anantapur, have also been hit hard by fluorosis.
The government of Andhra Pradesh takes note of the problem in a statement on its official website. It says underground reservoirs in parts of Nalgonda District that are a main source of drinking water are "highly polluted" and that the water is "unfit for human consumption." It says the water is also harmful to livestock. "Many people and cattle are afflicted with fluorosis, for which there is no treatment," the government says in its statement.
Over the last 30 years, the government and a few non-governmental organizations have made some attempts at remedying the situation. Several studies have confirmed the high concentrations of fluoride, including one joint project conducted by researchers in Hyderabad at Osmania University and the Institute of Preventive Medicine and the Department of Geochemistry at Utrecht University in the Netherlands.
But help from the government and non-governmental organizations has been limited and the problem endures. Victims mainly have struggled on their own and their plight has attracted little attention outside India. Now elected officials in Hyderabad, the capital of Andhra Pradesh, which encompasses Nalgonda, and in New Delhi, the national capital, are taking some of the most aggressive steps ever to address the fluorosis problem. Historically aid for fluorosis victims has been slow and halting. In 2005, for the first time, about 3,000 fluorosis victims began receiving financial assistance from the government. But critics said the monthly stipend of 200 rupees or about $4 was grossly inadequate. The average monthly income in Nalgonda is $20.
In the 1980s, the government of Andhra Pradesh, with funding from the Netherlands, built 20 water treatment plants to remove fluoride from drinking water. But the government was unable to maintain the plants.
When the water treatment plants failed, fluorosis victims in Nalgonda began urging the state to provide healthy drinking water from the Krishna River, 26 miles or 43.5 kilometers away. That was in the late 1980s.
In 2004, a physician, Dr. Y.S. Rajasekhara Reddy led the Congress Party to power in the state Assembly in Andhra Pradesh. Dr. Reddy, who became the chief minister, declared that he was committed to helping fluorosis victims. That year, 2004, the state government agreed that water from the Krishna River should go to Nalgonda and planners began working on a project to build tunnels and a reservoir.
Work on the main tunnel began two years later in 2006. It is to be 26 miles long. So far three miles of the tunnel have been completed. The government estimates the tunnels and reservoir will cost about 28 million rupees or nearly $600 million, making the project by far the most ambitious effort to help victims of fluorosis and prevent the spread of the affliction.
While the tunnel project is underway, the government has been providing clean drinking water several days a week to many in Nalgonda District from a large reservoir fed by the Krishna River.
Dr. Reddy, perhaps the strongest advocate ever in government for fluorosis victims, died in a helicopter crash in September of 2009. But his colleagues in the Congress Party government in Andhra Pradesh said they were determined to continue his work against the disease.
In the spring of 2009, Gutta Sukhender Reddy, no relation to Dr. Reddy, was elected to the Indian parliament in New Delhi on a Congress ticket from Nalgonda District. Fluorosis had been a central theme in his campaign and as he took office he said: the fluorosis "problem gets top priority in my agenda." Komatireddy Rajagopal Reddy, unrelated to the other Reddys, also was elected to Parliament from Nalgonda in the spring. He, too, is expected to lend his support for assistance for fluorosis victims.Amsala Swamy, 27: "No child should suffer like me." Photo by RamuSuravajjula
The people of Nalgonda and the other districts have suffered the effects of fluoroide contamination for decades. Generations of people have been afflicted. Some of the worst parts of Nalgonda District include the villages of Sarampet, Kankanalapally, Yedavally and Yellareddygudem. In those places, I saw scores of people like Mr. Swamy. Many had crooked hands and legs, stooped backs.
The illness has many ramifications. One is that the victims are often stigmatized. Many are unable to find partners for marriage. "Who is going to marry the people suffering from this deadly bone disease," asked Venu Sankoju, a popular poet in the region who has written about the ravages of fluorosis. I spoke with him at Nalgonda District headquarters in Nalgonda.
"Fluorosis has shuttered many dreams," he said, " dashed many hopes."
Eight years ago the High Court of the state of Andhra Pradesh ordered the Andhra Pradesh government to provide clean drinking water to fluorosis victims, medical assistance and instructions on how to avoid fluorosis. The High Court also urged the government to consider sealing contaminated wells and, most dramatically, resettling people to places where the water was safe to drink.
But most of the court's order is yet to be carried out. At one point, the state installed some devices to remove fluoride from water. But according to a report by the World Bank, the devices broke and were not replaced. The World Bank said the state government also distributed more than 10,000 household water filters. But, the Bank said, the filters, also, broke. Non-governmental organizations showed people how to use their roofs to catch rain, the Bank said. But about 40 percent of the houses had thatched roofs that could not be adapted to catching rain water.
Amsala Swamy, who looks more like a child than a man of 27, has become a symbol of the plague of fluorosis and an advocate for the victims. "I have met five Prime Ministers and three Presidents in New Delhi, the capital of India, to represent our problem," Mr. Swamy said in an interview in his home in the village of Sivannagudem. "The disease affected me when I was in my mother's womb. No other child should suffer like me." #