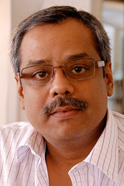 By Venkata Vemuri
Manila - Typhoons are not new to the Philippines. As many as 20 of them strike every year. But the storms, known as hurricanes in the United States and cyclones in the Bay of Bengal, are beginning to arrive earlier than usual - in April and May, rather than June. And that two- month difference is enough to cause problems for farmers.
The farmers usually harvest rice, their largest crop, in April and May and plant mongo beans. Then in June they put in another crop of rice. But this year two typhoons and the heavy rain they have brought have disrupted all that.
Scientists say Climate Change is to blame. To survive, farmers are being advised to change decades old practices.
Antonio La Viña, dean of the Ateneo School of Government and a consultant to the Philippine president on Global Warming and Climate Change, said farmers would have to learn to adapt to new seasons.
"It means having to change the planting calendar," Mr. La Vina told IRIN News , an information unit of the United Nations, in Manila. The two typhoons caused heavy flooding and killed 73 people, many of whom drowned, according to the Associated Press.
African Nations Advising Rich Cousins
That Sun Could Also Rise With Right Help
NAIROBI, Kenya - Africa's Ministers of Environment plan to ask the world's wealthy nations for more money specifically earmarked for dealing with Climate Change. They are aiming their request for the annual United Nations meeting on Climate Change, this year in Copenhagen in December.
The minister in South Africa for water and the environment, Buyelwa Sonjica, expressed the sentiment of her colleagues in an interview with the Associated Press. What's needed, she said, is "stronger leadership from the developed world."
The United Nations says Africa needs at least $1 billion a year to manage the effects of Climate Change. Farmers need to change their tactics, the United Nations said, and many people need help with relocation.
Projections on the future impact of Climate Change are grim. According to experts quoted by the Associated Press, some African countries may see farm harvests drop by up to 50 percent within a little more than a decade. Rainfall is expected to decline over a continent that relies mainly on rain for its agriculture. Tens of millions of Africans now are dealing with water shortages. But over the coming years, the Associated Press reported, as many as 250 million more Africans may begin to experience water shortages.#