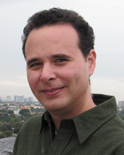 By Roberto Manzano
DAVIE, Fla –
Mitch Stewart was walking around what he calls his red dream machine, a steel and aluminum concoction with a powerful engine and all kinds of rescue gear. He opened compartments jammed with bundles of defibrillators, medications and hand tools. He showed off framed photographs of the machine engaged in good works: rushing out into the Florida Everglades, for example, to help a downed helicopter pilot.
Mr. Stewart is a firefighter in the fire rescue unit of the sheriff's department in Broward County, just north of Miami. Broward County is one of Florida's most populous areas, but it also extends well into the Everglades, a wild, open place of alligators and a few endangered panthers.
Mr. Stewart's red dream machine was not the sort of thing most firefighters work with. His machine was an airboat, the workhorse of the Everglades, a combination of square-ish, flat-bottomed open boat with a big General Motors V-8 engine with twin airplane propellers that can push the craft through shallow swampland at hair-raising speeds.
For hunters, fishermen, researchers, wild life specialists, weekend partiers, police officers and rescue workers the airboat is divine. It can flash across the Everglades at 50 or 60 miles an hour with half a dozen passengers hanging onto bucket seats and wearing industrial strength ear protectors.
People who like airboats love them. But others who live along airboat routes hate the noise. Some researchers say airboats disrupt the nesting and breeding of birds and other wildlife. Mr. Stewart knows airboats. He has been operating them for 35 years. "I've raced them," he said. "I've sunk them. If you haven't sunk one you're not a real airboat operator."
I met Mr. Stewart at the annual Broward County Airboat Show and Festival.. He was a youngish looking 55-year-old man in khaki shirt and dark trousers, a little on the heavy side. He looked even younger when he clowned around with a child's red plastic firefighter's hat. The airboat show draws thousands of fans to the Bergeron Rodeo Grounds here west of Fort Lauderdale. Dozens of white, flat-topped sunshades like the ones you see at soccer matches and craft fairs were scattered over the grounds. People in jeans and tee-shirts were drifting around. Country music and the aroma of freshly cooked pulled pork sandwiches deep-fried double-stuffed Oreo cookies and cold beer filled the air. The parking lot was packed with pickup trucks and big SUVs.
The annual gathering produces a microcosm of Florida's airboat culture, people who use the craft for work and play, love the rush of the wind in their hair and the racket of the engines. "I like the freedom," Mr. Stewart said. "It's just you and nature."
Airboats have become the centerpiece of a multimillion dollar industry. There are simple, bare-bones models and Cadillac versions that can cost more than $100,000.
The first homemade airboats appeared in the swamps of Florida and Louisiana in the 1930s. Soon the standard airboat design emerged: open, flat-bottomed boat usually equipped with a car engine – sometimes an aircraft or marine engine -mounted toward the rear with an airplane propeller – sometimes twin propellers, like Mr. Stewart's red dream machine. For safety's sake, the propeller was enclosed, in a roughly two-foot wide cage of aluminum or steel tubing with steel mesh. Many airboats have upswept prows designed to push weeds and saw grass out of the way. The pilot sits up high on a chair bolted on struts just in front of the engine. In the forward space below the pilot there is room for rows of passenger seats. But some work boats leave the front of the boat open. That's how frog giggers and alligator hunters configure their airboats.
Airboats can skim across saw grass and cat tails and the black muck soil of the Everglades on barely a slick of water. A heavy dew can do the trick. There's no keel, no rudder and there are no engine parts in the water to snag the bottom. On weekends, Mr. Stewart said, he often sees 150 or so airboats in the 7,000 acres of the Everglades west of Fort Lauderdale that his agency patrols.
His fire rescue agency has just one airboat, but it has been a powerful tool. The sheriff's department has two others for law enforcement. Before the firefighters got their boat five years ago they had to rely on private airboaters when there was trouble in the Everglades, "You didn't know who you were going with or the condition of their equipment," Mr. Stewart said.
Mr. Stewart and his crew once saved the life of a helicopter pilot who had gone down in the Everglades and, another time, pulled an elderly couple from Ohio off an airboat that had taken them out on a nighttime jaunt to see alligators but had gotten stuck in deep mud. Airboats have no brakes and cannot move backwards. The only way with an airboat is forward. "You don't back off," the throttle to get out of a tight spot, Mr. Stewart said. "You have to power out of the problem. Power is your friend."
Mr. Stewart coordinates the Joint Airboat Rescue Emergency Deployment Group, a volunteer organization of about 150 airboaters trained to reinforce fire rescue officers when something big happens, like a plane crash. "They're my eyes and ears," Mr. Stewart said. "They use their gas, their time. If there's a catastrophe, I know I can depend on them." There are more than a dozen airboat clubs in Florida and two big airboat magazines, Marsh Rider and Airboating Magazine. At the Davie airboat show, a father and son team in jeans and baseball caps, posed with their custom built red and gray airboat and a trophy. Their airboat had just won the "Best of Show" award.
But not everyone is thrilled by airboats. Some people think they are a pain in the neck. In several Florida counties, anti-airboaters have been trying to establish curfews so that at least the nights are free of the high-pitched cry of the engines.
In their own defense, the airboaters sometimes sound like environmentalists. They complain about too much development, too many condos, too little swamp. New developments come in, said Mark Cruz, a member of the Broward County airboat club, "and they throw us out." Bill Halback and his wife have lived for 30 years on Orange Lake, not far from the University of Florida college town of Gainesville in the northern part of the state. They like to live with the windows of their house open so they can catch the breezes and hear the sounds of crickets and owls in the trees and bushes. Then along comes an airboat.
An airboat, Mr. Halback said, sounds like one of those ear-wrenching, gasoline-engine powered leaf blowers. "You can feel it, as well as hear it," Mr. Halback said. The airboaters have not been empathetic, Mr. Halback said. They have suggested, for example, that he close his windows, get some earplugs, install sound-proofing in his house or maybe stock up on tranquilizers. As a result, Mr. Halback has begun campaigning for a nighttime airboat curfew.
But airboats seem to be going strong, gliding right through the deep national economic downturn. Keith Sherouse sells airboats manufactured by GTO Performance Airboats in Ocala in horse country in north central Florida. His cheapest boats go for just under $27,000. One customer bought his fifth airboat not long ago, Mr. Sherouse said. The buyer loaded it up with everything he could think of, including $12,000 worth of stereo gear. The rig sold for $135,000.
Mr. Sherouse, thirty-something and wearing a red baseball cap, was sitting under a white, flat-topped sun shade at a table covered with Performance Airboat brochures he had designed himself. He was feeling pretty good. "We haven't seen the economic crisis," he said. #
Photos Courtesy Broward County Sheriff's Department